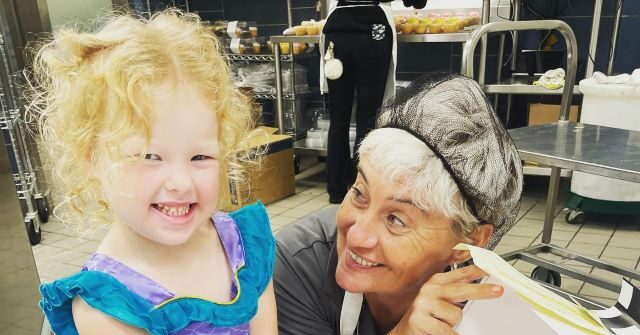 Although citizens in Fort Myers, Florida, are recovering after Hurricane Ian, one special person made time to surprise a little girl.
Caroline Rollins entered a local Publix on Friday to get her daughter, Anna, a birthday cake but could not find one due to a lack of shipments and supplies, 10 Tampa Bay reported Monday.
But a few minutes later, "I felt a tap on my shoulder and one of the women (who I learned later is Natasha ) told me that in her culture, 'it isn't a birthday without cake!' and she checked and found some supplies to bake Anna a third birthday cake," Rollins explained in a social media post on Sunday.
A few days later, the pair went to pick up the delicious treat fit for a princess made of vanilla buttercream with a tiara and wand on the top.
A photo showed the little girl's beaming face as Natasha surprised her with the cake:
"Natasha was beaming, Anna was happy tapping, and I was near tears! Talk about an above and beyond moment. Natasha went out of her way to make sure Anna had the perfect day even in the middle of rebuilding our decimated community," Rollins continued.
Video footage showed the Fort Myers Beach area with debris scattered everywhere and buildings with their windows and doors blown out:
Meanwhile, social media users expressed their joy over the birthday surprise, one person writing, "What a beautiful story. That woman has an amazing heart and went above and beyond for Anna!"
"What a sweet moment! Blessings on Natasha for making sure a little birthday girl had a cake for her special day!" another commented.
The manager was aware of what happened, according to Rollins, who said, "She had seen it, she had sent it to her boss. I'm honestly so excited for [Natasha] to see the positive feedback."
Rollins has since made plans to visit Publix on a weekly basis to visit Natasha.




View original Post